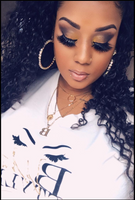 About BWhit Styles
Born and raised in Arlington Texas. I began my Cosmetology journey 1 week after my high school graduation. I received my license in 2012. Since then I've added lashes & microblading to my list of certifications.
The Beauty Industry is not only my career, it is my joy an passion. Along with the cosmetology industry I've added crafting an t-shirt making to my list of hobbies! For more info call or txt 8173900004.
So please let me know what I can do for you!
Location
Salon Suites Of Euless
1201 Airport Fwy
Euless, Texas 76040
Availability*
Monday-Sunday
Hours*
10am- Until
By Appointment Only
-MY SUPPORTERS
Your constant support is ALWAYS valued. An I thank each an everyone of you for helping MY dreams come true one order at a time..